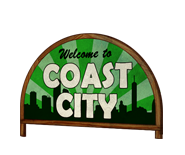 Annihilate whole teams and structures in
Coast City
, a two-lane map hiding a deadly Doomsday Device. You must adapt between dominating the urban jungle and pushing into the enemy base to destroy their Power Core, or risk subatomic obliteration.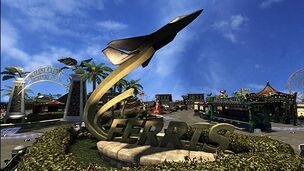 Points of interest
LANES & TURRETS

Your team must push through two lanes, protected by defensive turrets, and destroy the Power Core at the enemy team's base.
The Bottom Lane is shorter and faster to push. The top lane, while longer, has better access to the urban jungle and important objectives like Neutral Creatures and the Doomsday Device.
URBAN JUNGLE

The shrouded area beyond the freely visible two lanes is known as the Urban Jungle. Within you will find important map objectives like Power Relays, Neutral Creatures, and the Doomsday device.
DOOMSDAY DEVICE

Ten minutes into a match the Doomsday Device activates, opening new paths in the Urban Jungle and creating a neutral objective that attacks the closest Champion.
Destroy the turret to drop the Doomsday Device's firing control beacon. Pick up the beacon to gain targeting control of the Doomsday Device's firing mechanism. Will you fire at nearby enemies or will you target their structures to try pushing the enemy's base?
URBAN JUNGLE CREATURES

Kill the Creatures found in the Urban Jungle to earn experience and credit, freeing up more resources for allies fighting in-lane.
POWER RELAYS

Power Relays to help push your lanes, and there are a total of three in the Urban Jungle.
One relay gives your team increased damage to drones.
Two relays add Elite Drones to your top lane.
Three relays add more Elite Drones to your bottom lane.
Finally, capturing a Power Relay spawns a friendly stealth surveillance device that patrols the nearby area and clears enemy surveillance devices.
STEALTH PADS

Any Champion or trap placed inside a Stealth Pad is invisible to all enemies outside of that Stealth Pad, unless a Champion has True Sight.
Maps
Images
Videos
Community content is available under
CC-BY-SA
unless otherwise noted.