Gotham Divided is Gotham City split into Gaslight Gotham and Prime Gotham.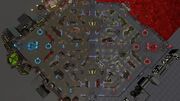 Official Description
A dimensional rift splits Gotham City between the worlds of Gaslight and Prime in this 5v5 three-lane map. Triumph through clever use of urban shortcuts carved by exploded turrets, cunning placement of Tactical Skills, and power seized by defeating the formidable Leviathan.
Useful Info
Starting Credits: 750
Recall time: 8 seconds
At 1 minute drones spawn, at 85 seconds all neutral monsters spawn, phase pods spawn at 5 minutes. The timer doesn't begin until the wall isolating the bases from the rest of the map fall 30 seconds after the game begins.
You make achievement progress if you play on this map 10 times.
Points of Interest
Your team must push through three lanes, protected by defensive turrets, and destroy the Power Core at the enemy team's base.
Lanes and Turrets
The Middle Lane is shorter and faster to push.
Urban Jungle