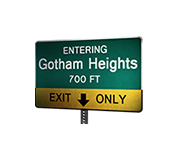 Unleash chaos and destruction on the elevated streets of Gotham in this explosive capture-and-hold map. Charge into instant action with four allied Champions, either clashing on the streets or taking your chances in the urban jungle.
Points of interest
CONTROL POINTS:

At match start, the five Control Points are neutral and both teams have a Power Core at full health.
To win, your team must destroy the enemy Power Core. Two methods to Power Core destruction exist: capturing and holding a greater number of Control Points than the enemy team, and capturing and firing the Orbital Cannon.
ORBITAL CANNON:

At the center of Gotham Heights, hidden in the Urban Jungle, rests the Orbital Cannon platform. At set intervals throughout a Gotham Heights match, a single Champion may capture the Orbital Cannon, but additional friendly Champions increases the rate of capture.
Capture the platform and you summon a fiery meteor that lands in the enemy team's urban jungle. Meanwhile, for a short period, the captured platform counts as a sixth bonus Control Point. And finally, powerful Assault Drones spawn at the platform and charge towards any enemy-owned Control Point.
URBAN JUNGLE:

Any area beyond the openly visible circular lanes, where the five standard Control Points are located, is known as the Urban Jungle.
HEALTH PACKS:

Move across a green health packs to restore a portion of your Champion's health. Health packs respawn on a set timer, returning after a short period of time.
STEALTH PADS:

Any Champion or trap placed inside a Stealth Pad is invisible to all enemies outside of that Stealth Field, unless a Champion has a skill allowing them to see stealthed enemies.
Maps
Images