Welcome to the Infinite Crisis Wiki!
Infinite Crisis was a free-to-play MOBA set in the DC Comics universe for the PC. It featured DC characters from several different universes and several unique additions to the traditional MOBA formula. Learn more about Infinite Crisis here.
Born of Zeus and Queen Hippolyta of the Amazons,
Wonder Woman
protects those in need with sword and shield.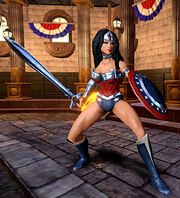 The Amazons lived in isolation until pilot Steve Trevor crashed on their island paradise and Diana fought to accompany him back to civilization as Wonder Woman. Expecting a world of peace and prosperity, she instead discovered war and hate, vowing then to enact change. Viewing conflict as an ugly necessity, Diana offers opponents mercy if at all possible.
Wonder Woman can reposition quickly in fights using her lasso or her ability to protect allies. She can also draw the attention of her opponents, preventing enemies from fleeing or attacking her allies.
Read more: Wonder Woman (Prime)
Please feel free to contribute anyway you can, but please do not vandalize. If you need help editing contact our admins. 
If you do not like using the visual editor, change your preferences.
Please expand our Stubs as they are lacking information.
If you would like to create a new article, just type the name of the article in the box and press "Create a new article". Please make the article relevant to
Infinite Crisis
.
Who is your favorite Champion NOT from the Prime Universe?
For previous polls, check out the Poll Archive.
Create blog post
Blogs
Recently, an anonomyous post from the Infinite Crisis staff has told the Infinite Crisis community that the game will close in August. The official statement is below.

"After much deliberation, we regret to announce the official shutdown of Infinite Crisis. We will end development efforts today and …

Read more >

As some of you know, I have been posting in the forum some of my champion ideas. Some of my ideas are listed below. I encourage you to post in the forum discussion if you have any additional ideas!




Background

Floyd Lawton is Deadshot, a professional mercenary for hire. Little is known about his past,…

Read more >
See more >

Injustice: Gods Among Us Wiki
DC Database

Frontline Commando Wiki
DC Universe Online Wiki